With a right development strategy, Ha Quang Land has achieved successes and made great contributions to the improvement of new face of Nha Trang City and won the customers' trust. Its 02 key projects include Le Hong Phong I and II new urban areas which draw special attention from local authorities and people as well as investors.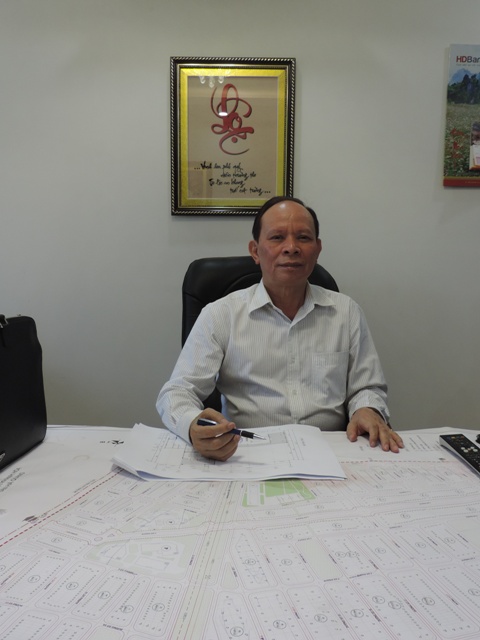 Finding its own way
Established in 2001 with strategic shareholders including Vietnam Sturgeon JSC and PVFC, Ha Quan Land has been aways supported by practical and efficient policies. To achieve a firm position in Nha Trang real estate market, CEO of Ha Quang Land Ha Van Hai has engaged in many other busineses. "With childhood passion into business, I started to do business since I was a graduate student in Russia and succeeded. Then, I found promising prospects for real estate market in Vietnam. In 2000, I decided to establish a real estate company in HCMC and carried out several property projects in Nha Trang City. We have now several member compaines, my futurep plan is to establish a big firm to affirm our brand and scale", said Mr. Hai.
The management team of Ha Quang Land always comes with bold and creative ideas and get ready for coping with challenges. With a philosophy of focusing on quality than quantity plus a right strategy, Ha Quan Land has launched many good quality projects. With an idea of making use of available advantages in a prime location, talented and whole-hearted team of engineers, the company has successfully turned Le Hong Phong I & II new urban areas into modern ones meeting the requirements of higher living quality. "A new urban area located in Nha Trang City's Center make it special and significant, it ensures convenience for local citizens and value of every meter of land", added Mr. Hai. 
Real estate market always witnesses constant changes, especially when Nha Trang becomes a delicious piece of cake for investors. The initial success of Le Hong Phong I urban area is a good sign for Ha Quang Land to create new breakthroughs. Without hesitation, the construction of Le Hong Phong II urban area gets started. The project is located in the Western Nha Trang City under the city's development planning with convenient transport system with a 60m-wide Nha Trang-Da Lat road crossing, alongside with Quang Truong River, a pair of 43m-wide Road 1 under construction, a 22m-wide road alongside Le Hong Phong Street ajacent to the project under construction. With fully socio-economic facilities, a modern & environmentally-friendly living space, unique and impressive designing style, etc. the project will become a focal point for economic-socio-cultural-entertainment development of Nha Trang City.
More new things expected
Recent years saw strong changes in Nha Trang City with high-rise hotel buildings, new urban areas, sychronous transport system. According to leaders of Department of Construction of Nha Trang City in the term of 2016-2020, it is a plan to turn Khanh Hoa province into a center for international tourism and service with Nha Trang centered approach. As evaluated by Khanh Hoa Real Estate Brokerage Association, tourism potential and developed infrastructure system are "driving" forces for Nha Trang real estate market to continue growing in 2017. These are good signs for Khanh Hoa real estate sector promising a bright future because Nha Trang City in particular and Khanh Hoa province in general will outline specific orientations related to tourism-service development policies closely attached with construction of urban areas. This also not only helps attract domestic and foreign investors but also create favorable conditions for Ha Quang Land to make new breakthroughs.
Mr. Hai shared: "The most important factor of real estate enterprises is to create prestige and to earn customers' trust. Therefore, apart from investing in a complete infrastructure network, Ha Quang Land also pays a special attention to communications programs, promoting its image to customers, ensuring quality and schedule of projects". In line with strong development of Nha Trang City toward a tourism center with intenational stature, it requires Ha Quang Land to launch attractive projects to meet practical demands. In addition, Ha Quang Land expects more support from local authorities to create a high consensus in the local community related to land clearance, strengthening links between business and banks to ensure working capital sources. Beside, it is expected by the company that Khanh Hoa will work out many practical solutions and policies to support local people to buy houses in urban areas. By a high determination and its prestige, Ha Quang Land is promising to further promote Nha Trang's images by modern and civilized real estate projects.
Minh Xuan