Khanh Hoa has so far affirmed its position as a political-social-cultural center in the South Central Region and Central Highland. The land of "salangane & aloe wood" continues the economic restructuring scheme in association with growth model renewal and turn it into a city under Central Government & a center of South Central Region and the whole country. Chairman of People's Committee of Khanh Hoa Province Le Duc Vinh shared with us in a recent interview.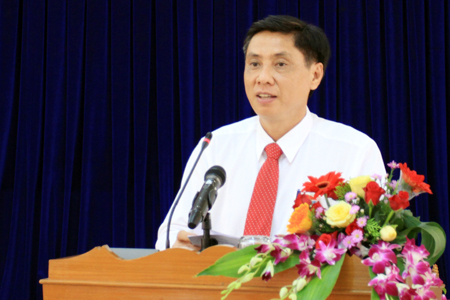 Could you please share about marine economic potential of Khanh Hoa, how has Khanh Hoa paid attention to environmental protection after the Formosa Ha Tinh disaster?        
With a 385 km long coastline, over 200 small and big islands including Truong Sa Island which is important for socio-economic development, national defense and security for Khanh Hoa and Vietnam, Khanh Hoa has 5/9 districts, townships bounded by sea including Nha Trang, Cam Ranh, Ninh Hoa, Van Ninh, Cam Lam and Truong Sa island district.
Khanh Hoa has many advantages for marine tourism development with many beautiful beaches, temperate climate, diversified marine ecology including coral reefs, sea grass, mangroves, etc. Amongst, Nha Trang Bay is recognized as one of the world's most beautiful bays and Vietnam's most valuable biodiversity region.
Other 03 beautiful bays including Van Phong, Nha Trang and Cam Ranh are very favorable for tourism development due to deep water, airtight and proximity to international maritime routes. These are favorable for building seaports to serving international visitors, building international goods transit facilities, providing shipbuilding services and logistic services for offshore fishing, building storm shelters, etc. The coastal area includes river mouths, lagoons, islands, etc. which are favorable for aquaculture and fish catching.
With available advantages, Khanh Hoa has complied with the strategy for sustainable exploitation and utilization of marine natural resources and environment protection by 2020 and vision to 2030 approved by Prime Minister. Beside, the province has paid a special attention to preservation of marine biodiversity, effectively using water space and natural resources to boost socio-economic development toward sustainability.
The province, especially, focuses on strengthening propaganda & educational programs, raising awareness of sustainable exploitation and utilization of marine natural resources and environment protection through many periodical conferences, introducing legal documents related to environment protection to cadres, public servants, enterprises and local community. Khanh Hoa has regularly conducted inspection and drastically handled any violation on environmental pollution or actions causing damages to marine environment.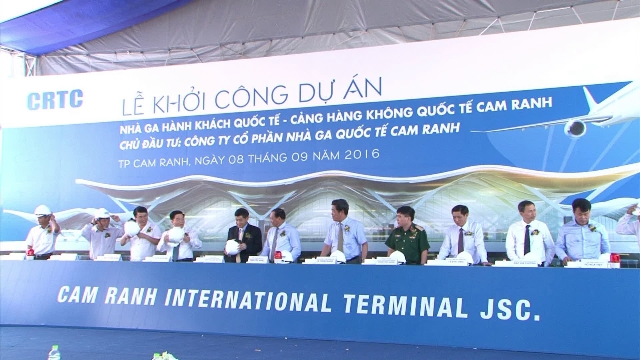 Infrastructure in Nha Trang seems to be overloaded due to significantly increasing number of visitors to Nha Trang, how has Khanh Hoa addressed this?
As one of 10 large tourism-service centers of Vietnam, Nha Trang always attracts a large number of visitors. This is an advantage for Khanh Hoa to develop local tourism, to promote its image and people but it is still a burden on social-technical infrastructure, especially in peak season like Tet holidays, Festivals. To deal with, the province has worked out solutions to ensure traffic order and safety, to outline planning on traffic infrastructure investment and development. Besides, Khanh Hoa has agreed on a plan to build parking lots in Nha Trang City to reorganize traffic system, reduce traffic congestion, ensure traffic order and safety.
Toward sustainable tourism development in Nha Trang, Khanh Hoa needs support from the Central Government in implementing some key projects including Xom Bong Bridge (Nha Trang City), flyover in Dien Khanh Bypass and intersection of National Road 1C and National Road 1; moving Nha Trang Station out of inner city to construct a synchronous infrastructure network, reorganize traffic system and ensure urban beauty. It also needs financial support to carry out North-South Railway crossing Khanh Hoa Administration Center and Song Cai flyover in association with anti-salt intrusion dam.
Vietnam has now become members of EVFTA & AEC, do you believe in the internal strength of local enterprises before opportunities and challenges brought from global integration?
EU is one of 2 leading export markets of Khanh Hoa with an annual average export value accounting for 25% of the province's total export value. Export items between Khanh Hoa and EU are not in direction competition but complementary. Currently, Khanh Hoa has 40 enterprises exporting their products to EU with key items including: seafood, agricultural products (coffee), apparel, handicraft, ship.
EU is a very demanded market, products must comply with technical requirements, criteria on food safety and hygiene and quarantine conditions. This requires careful study from local exporters. The number of local enterprises in Khanh Hoa that can comply with technical requirements of EU is limited, just a few seafood manufacturers can able to meet statutory requirements on food safety and hygiene. Therefore, seafood sector has some advantages for export to EU. To textile & garment, most of local enterprises get involved in processing stage but not designing or distributing.
Participation into AEC creates a smooth goods exchange not only between ASEAN members but other countries. However, a severe competition can be foreseen because products from ASEAN countries have higher quality than local ones. In recent years, many enterprises in Khanh Hoa have taken full advantages of material sources from ASEAN countries under the cumulative rules of origin in FTAs amongst ASEAN members and between ASEAN with other economies like China, Korea, Japan, etc.
In order to overcome these challenges and to seize opportunities brought by global integration, apart from support from Khanh Khoa's authorities at all levels, local business community needs to thoroughly grasp global information, evaluating impacts of global integration on business operation, each enterprise needs to work out an action plan in aspects of market orientation, production method renewal in association with good social responsibility, business culture. With efforts of authorities at all levels, related departments and agencies and enterprises, I hope that business community of Khanh Hoa will not only stay firm in the market but also be capable of competing with foreign partners.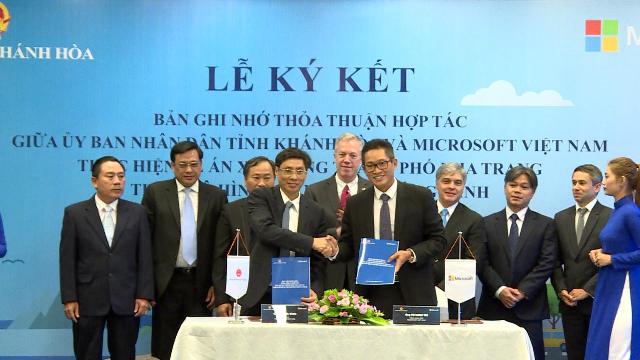 Could you please share about Khanh Hoa's economic restructure scheme in the coming time?
As of the plan, Khanh Hoa has worked out a strategy to boost growth in the direction of increasing proportions of service-industry-construction & reducing proportions of agriculture-forestry-fisheries. The province's economic structure has been shifted to modern way with positive changes. Service sector takes the top of the province's economic structure with an annual 12% contribution to the province's GRDP. To industry-construction, some key economic sectors are shaped including shipbuilding, seafood processing for export, etc. while proportions of agriculture-forestry-fisheries are reducing but with higher growth quality. In 2016 alone, proportion of service in the province's GRDP structure stayed at 39.22%; industry-construction of 31.36%; agriculture-forestry-fisheries of 11.42%. basically, Khanh Hoa has achieved its planned targets in its economic restructuring scheme.
Implementation of Conclusion No 53-KL/TW dated December 24 2012 of the Politburo by 2020 and a vision to 2030, Khanh Hoa continues strengthening its economic restructuring scheme, shifting structure of industry-agriculture-service in the direction of increasing quality, efficiency and competitiveness. In addition, Khanh Hoa will boost development of marine economy to bring into play its available advantages and potential; focusing on shipbuilding industry, transport, sea freight services, tourism, aquaculture, seafood. The province strives to make marine economy a key one with a 55-60% contribution to the province's GRDP, of which marine tourism account for 15-20% of the province's GRDP.
Cong Luan