A long coastal line, many beautiful beaches and islands plus lots of sea and island cultural heritages have made sea and island tourism a unique strength of Khanh Hoa and a key economic sector.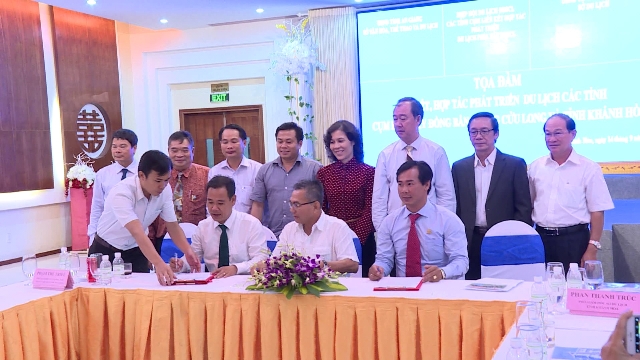 Potential awakened
As a coastal province of South Central Vietnam, Khanh Hoa has a 385km coastal line, 200 small and big islands, including Trung Sa Island with importantly strategic economic – national defense – security location. The province owns 3 out of the most beautiful bays of Vietnam and of world's famous ones including Cam Ranh, Van Phong and Nha Trang with many beautiful landscapes and beaches such as Dai Lanh, Dam Mong (Van Ninh District), Doc Let, Nha Phu Lagoon (Ninh Hoa District), Bai Tru-Dam Gia, Dam Bay, Dam Van (Nha Trang City), Bai Dai (Cam Lam District) and other natural beaches located alongside the coast from North to South.
Khanh Hoa is also home to numerous marine creatures, coral reefs with over 340 out of the world's 800 hard corals and many specialties like shrimp, cuttlefish, crab and tropical, saltwater fish, especially salangane nest as precious as gold. These make Khanh Hoa a land of aloe wood and salagane nest. In March 2003, Nha Trang Bay was recognized as an official member of Club of the most beautiful bays of the world. Khanh Hoa has been focusing on developing high-class tourism resorts closely attached with marine recreation activities.
Sea and island is now a unique tourism advantage of Khanh Hoa, in order to exploit such potential, the province has developed unique tourism products to attract tourists. Specifically, the province has been developing types of resort tourism combined with marine recreation and ocean discovery activities such a parachute pulled canoe, canoeing, scuba diving, walking on the sea bed, flyboard, etc. In addition, some large-scale resort projects have been put into operation like Six Senses Ninh Van Bay, L'Alyana Ninh Ban Bay Nha Trang, Vinpearl Nha Trang, Amiana Nha Trang, Mia resort, Sheraton Nha Trang, Sunrise Nha Trang, Havana Nha Trang, etc. which contribute to improvement of quality of tourism quality and brand of Nha Trang-Khanh Hoa. It is one of the focal points of the province to attract international visitors.
In addition, the launch of sea transport means and development seaway infrastructure systems have been invested. The province has invested in approximately 700 inland waterway means operating in 40 transport routes with a capacity of 15, 500 seats. Additionally, Khanh Hoa has invested in constructing tourist wharfs to create convenient access from ports to tourist sites. Currently, Nha Trang port has been turned into a special purpose port for tourism with international standard, international marina under construction will soon put into operation to serve demands of international yacht show in Nha Trang – Khanh Hoa.
Sea resort as key strength
Mr. Tran Viet Trung – Director of Khanh Hoa Tourism Department said tourism has been clearly defined as top prioritized and key economic sector of Khanh Hoa. It has now become a key economic sector taking up a large proportion of its economic structure with a contribution of 50.45% to the province's GDP. The success of Khanh Hoa's tourism sector is thanked to efficient exploitation of available natural advantages to boost development of high-class sea and island resort tourism. The province has done a good job in building tourism development strategy as a key economic sector to compete with ASEAN region.
These policies can not be turned into reality without special attention of authorities at all levels and local people. Since 2001, Khanh Hoa has put tourism in the list of key socio-economic programs, working out many breakthrough solutions for tourism development, focusing on training high quality human resource. Specifically, Khanh Hoa is a pioneer in mobilizing capital under forms of BT (Build-Transfer) and BOT (Build-Operate-Transfer), etc. applying tourism property mechanism combined with other policies like land support, land clearance and compensation to draw special attention from domestic and international economic components to invest in key infrastructure projects and large – scale tourism projects.
According to Mr. Trung, in order to make it attractive to visitors, Khanh Hoa has focused on improving quality of tourism service, diversifying tourism products, encouraging to develop new tourism products and services to better meet demands of tourists like shopping, recreation, etc. The province has done research in renewing tourism promotion activities in key markets, working out solutions to recover and exploit traditional international tourism markets, making breakthroughs in developing tourism human resource, especially management teams and employees at accommodation facilities, travel companies, etc., enhancing capability of tourism training schools to ensure quality of human resource for tourism development in both quantity and quality in the new period. "Recently, on June 24, 2017, Party Committee of Khanh Hoa province has issued an action program No 14-Ctr/TU on implementation of Resolution No 08-NQ/TW of The Politburo to boost tourism development as a key economic sector. Khanh Hoa is now building a new master plan on tourism development till 2025 and vision to 2030 toward sustainability, step by step building Khanh Hoa into a tourism center of the whole country" added Mr. Trung.
In the past years, Khanh Hoa's tourism sector has achieve impressive growth rates with economic targets increasing by 15%-20% y-o-y.
In 2016 alone, tourism turnover reached VND 8, 378 billion, up 19.97% compared to 2015; a total number of visitors coming to Khanh Hoa staying at 4.42 million, up 10.28% compared to 2015, of which international visitors reached 1.17 million, up 21%. In the first 6 months of 2017, a total number of tourists coming to Khanh Hoa was estimated at 2.5 million, up 20% compared to the same period of last year (including 930, 000 international tourists) with a turnover of VND 7, 500 billion, up 31%.
                                                    Cong Luan